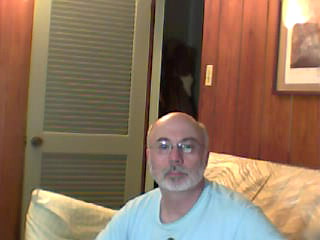 A message to Am-Can poolies
Howdy boys, from deep in the heart of Texas. Huntsville, to be exact, where it's been 90 degrees the past few days. It's about an hour north of Houston if there's no traffic, which isn't very often. I teach at Sam Houston State University here, a mid-sized school of about 18,000 enrollment. My field is Mass Communication. I teach courses in Media Writing, Media History, Media Management, and Global Media. My research is mostly on Canadian media. I was a journalist there for about 20 years. I have a whole website up here you can take a look at if you hit "Home" above. There's a picture of me in my work clothes. You can also see and read all about my sailing adventures aboard the vessel for which my team is named and read reviews of and excerpts from my various books. BTW, if you haven't read my book on the NHL lockout, you can download a copy here.
I just wanted to post this mesage on the occasion of my finally winning the Yahoo pool. I've resisted the temptation to woof about the success I've had this year because I've learned from past seasons that doing so causes the gods to do terrible things to my players. For example, two years ago I was cruising along in first place and decided to do some woofin'. Almost immediately the hockey pool gods struck down my best goalie, Marty Brodeur, with a season-ending injury, ruining my chances of winning the pool. I finished in seventh place. Here is how I have finished since joining the pool four years ago.
2007-08 - 3RD
It took me a while to figure out the rules. You mean you don't just pick players and check the standings every few weeks like the old days? As a newbie, I had to pick 11th (thanks, guys!) but snagged a young Ovechkin there. He finished with 112 points. Then I got Kovalchuk in Round 2. Remember when he used to be a scorer? I lucked out with Nabokov late in Round 3. Sleepers? How about Stasny in Round 6? I picked up Kopitar and Ellis as free agents. The latter chipped in with 23 wins!
2008-09 - 7TH
See above. I finally got smart and drafted a goalie first, but it was Brodeur. Luckily I was able to fill in with a young Rinne as a free agent. Spezza and Staal were supposed to be my stud scorers, but they only got into the low-mid 70s. Daniel Sedin (Round 4) got me 82 and Elias (Round 9) chipped in with 78. Free agent pickup Boyes picked up 72.
2009-10 - 2ND
Last season I almost made it, but I melted down at the end. I bet big on Sharks, snagging Jumbo (Round 2), Boyle (Round 4). and Marleau (Round 6). They got me 89, 58, and 83 points, respectively. I drafted one Cap (Backstrom, Round 3) and traded him for another (Green) to go along with Boyle and Chara. Can you believe I got Quick in Round 8? How do you like Louie Eriksson (71 points) in Round 13?
So, as you can see, this has been a long time coming. Now that the results are in and yours truly has finally been crowned champion, I just want to get this off my chest: WHO LET THE DOGS OUT? WOOF, WOOF, WOOF! WHO LET THE DOGS OUT? WOOF, WOOF, WOOF, WOOF! Whew! OK. I feel much better now.
I also wanted to let you see my setup here and let you know how I did it. That's a webcam shot of me above at the command center. I actually had to sit up for that shot. Otherwise I'm usually found in a reclining position with my head on that pillow there and a drink in my hand, usually a rye and ginger, a fuzzy navel, or a nice pale ale. I have a wireless keyboard and mouse on the coffee table that I use to navigate the intergoogle. My computer is a Shuttle cube wih a Pentium 4 micropocessor running Windows XP at 3.0 MHz, 2 GB of RAM, two massive hard drives and an ATI All-in-Wonder 256 MB graphics card. It's hard to believe she's six years old now, athough I've upgraded the components. I've got her hooked up to a 30-inch LG LCD monitor that is even older. Hell, I bought that thing when I was teaching in Singapore about eight years ago. Cost me a fortune back then, too. Couple of grand.
In one corner of the living room I've got the big screen. Well, it's not even all that big at only 42 inches. But it's the biggest fucking TV that I've ever owned. She's a Panasonic LCD with an HD tuner and all kindsa HDMI connections and all. I've got a DVR hooked into her with a 320 GB hard drive. It's a little bit long in the tooth, being almost seven years old now. Picture is a bit fuzzy compared to all this HDTV ya can git nowadays. I can watch the games on Versus every Monday and Tuesday nights, plus they've been running extra games on other days of the week recently with the regular season coming to a climax. On Sundays it's the game of the week on NBC. Yesterday was Chicago and Detroit. What a barn burner that was! I also get the Dallas Stars games from time to time on Fox Sports Southwest, but usually they're pre-empted by Houston Rockets basketball games or now fucking baseball.
I've also got my laptop plugged into her with a 20-foot HDMI cable running from my so-called office, which is only 'bout a 5X5 cubbyhole in the other corner of the living room. I've got the laptop plugged into a 19-inch monitor at a workstation there and also into the big screen. I use the laptop to watch the games online on NHL Gamecenter, which costs $20 a month but is a real bargain because there is never anything to to do in fucking Huntsville. Plus I can watch all the Canucks games. That's the team I grew up cheering for, and old habits die hard. I usually head up to Dallas, which is about 170 miles away, when they're playing there. The laptop is only three yars old and has a dual core processor, Windows Vista, Nvidia graphics, and 4 GB of RAM, so the online video is much better than what I can get off my old desktop, which is jerky and freezes up all the time. I'm usually watching a game on the big screen and have the Yahoo pool up on the desktop so I can pounce on players as soon as they score a goal. No, not really.
If there's one thing I've learned this year, it's patience. Plus of course how to pounce on good players when they get hot. The draft is really only half the battle. I wouldn't have won this season without players like Cory Crawford, Mikael Samuelsson, and Alex Pietrangelo, all of whom I picked up at mid-season. Crawford actually won me the pool, because after Brodeur got hurt (a couple of times -- that's the last time I draft him) I got way behind in goalie games and fell from second place with 90-something points to the bottom half of the league with about 67 points at one time. Getting Crawford gave me another starting goalie once he supplanted Turco as Chicago's No. 1, and when Marty got back and the Devils went on their remarkable run I had three starters and went from being -11 in goalie games to being able to pick my starts by year's end (not well, incidentally).
BEST PICKS
2. Daniel Sedin. C'mon, didn't you all see this coming? Dan'l had just as many points per game as Hank did last year. He just missed a buncha the season with an injury. You could just see that he was gonna come roarin' back this year to prove he was as good as his Hart-winning brother. Couldn't ya? Plus Hank was gonna be settin' him up like crazy. Hell, I thought about takin' 'im in the first. Except I always like to get a goalie early. That's rule No. 1.
7. Ryan Kesler. OK, it may seem like I'm an all-in Homer Canucklehad here, but geez, the guy had 75 points last year. He only had 73 this year despite all the hype about him being an MVP candidate. That was because he had more goals and went from about even to a +24. That really helped.
4. Jonathon Quick. I've had him for a couple of years now, and I'll never get him this cheap again. Suffers the occasional meltdown, but getting steadier and often spectacular.
WORST PICKS
9. Alice Hemsky. I'll swear he's always injured. I've got him in the perpetual pool, too. At least I get to keep him again in that one because he missed so much time, but he almost led the Oilers with 42 points. Would have, too, if Eberle hadn't come on late.
12. Victor Hedman. He ain't no Chris Pronger.
14. Matt Duchene. Actually, this was a pretty good pick coming so late. He ended up with 65 points, but with Kesler and Richards on my team he never got to play. I dropped him and took a flyer on Tavares, who got me four points in four games but was a -6. Goodbye!
15. Brian Elliot. Dog.
GAVE UP TOO EARLY ON
13. Milan Lucic. Had only two points and was -2 after five games, so I hit Delete. Finished. with 30 goals, 62 points, 121 PIMs and was a +29. Ouch!
11. Kimmo Timonen. Was pointless after four games, so I dumped him. Finished with 37 points and was a +11. Patience, grasshoppah!
David Backes. Picked him up as a free agent but got only one point from him in three games. He end up with 62 points, 93 PIMs and was a +32 playing as the Blues' first-line center despite being listed as a RW.
Patrick Elias. Another free agent acquisition who actually gave me two points in two games, but I needed PIMs at the time and let him go for some goon. He went on a hot streak, almost carried the Devils to the playoffs, and finished with 61 points. Grrr!
WORST TRADE
Chara for Kronwall and Bourgue. Actually, my only trade. Rule No. 2: Never trade with Cam. He'll eat your lunch. Loves to pick up guys off of waivers and package them 2-for-1 in exchange for a good player. Bourque was hot at the time but quickly cooled off. Kronwall was OK, but Chara is a stud -- 44 points, 88 PIMs and a +33. Sheesh!
Anyway, that's it for now. You all may have heard that I might be moving to Fiji. That's because I have an offer from the University of the South Pacific to head up their journalism program. Yes, there is such a school. I've been there. I've got the pictures to prove it. We're still negotiating, but if I take the job I guess we'll hafta re-name the pool the Fiji League. Well, the upside is that you're all invited to come for a visit. Won't be much hockey, however, but I'm sure there'll still be games on Gamecenter.
Marc Edge
Markenurhs
April 11, 2011